Sanitation Walk Through Old Astoria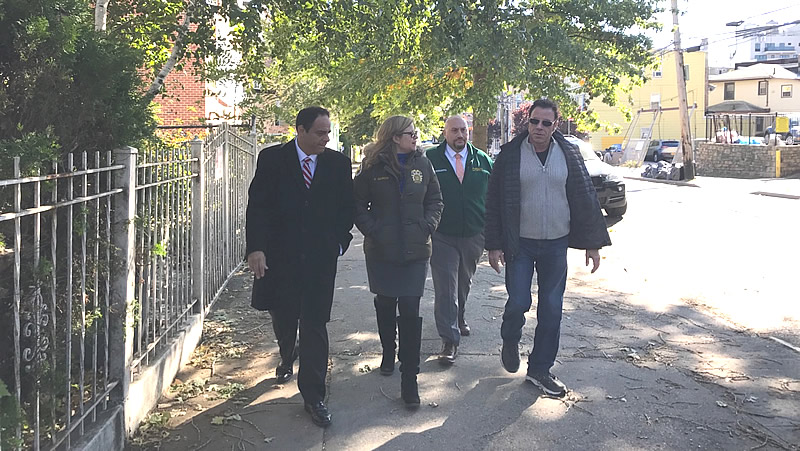 Richard Khuzami, president of Old Astoria Neighborhood Association, was privileged to be invited by Councilman Costa Constantinides to accompany him and NYC Sanitation Commissioner Kathryn Garcia on a tour of the streets of Old Astoria. This is the result of a 5 year campaign of OANA to reduce the default number of street cleaning passes per week in the neighborhood from 4 to 2. Astoria north of Hoyt Ave enjoys a default of 2 times per week and we are asking for the same in Old Astoria.
The most recent catalyst was the successful street clean up sponsored by OANA and The Family Church, in which 90 volunteers picked up 200 bags of garbage off our streets in a little over 2 hours. We also want to thank the media for all their positive coverage.
Two major points:  (1) with the advent of the Ferry Landing, along with the cultural draws such as the Welling Court Mural project, Socrates Sculpture Park, and Noguchi Museum, we are drawing many tourists and newcomers to the neighborhood, and we need to encourage the best possible first impression. Also, (2) with all the new residential construction either completed or in the pipeline, the very character of the neighborhood is changing. The city needs to provide the services and amenities most residential districts enjoy.
Many residents have stated they would support street cleaning in the neighborhood, however not if it means having to move their cars up to 4 times per week as is currently required.
We are hoping that this is another step in realizing our request be honored. We came away with a very optimistic feeling.
We also want to express our thanks to Councilman Costa Constantinides, without whose strong support none of this would be possible.
Photo: Nick Roloson, office of Councilman Costa Constantinides