A New Field House for Queensbridge Park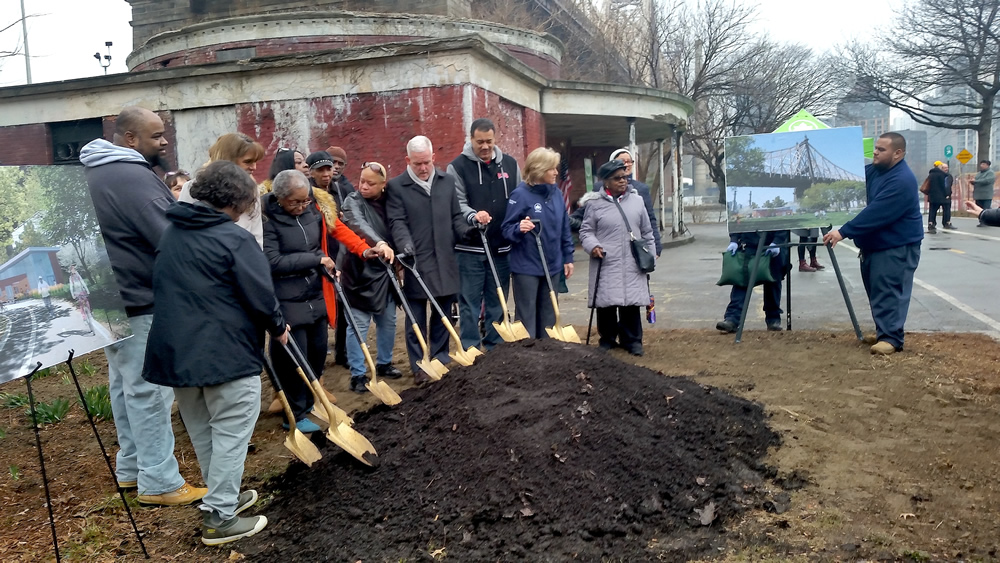 Good news for Queensbridge Park—the dilapidated old Field House, closed for many years, is to be demolished and ground has been broken for a new, energy-efficient park house that will serve as a  community center and will also house offices for Parks staff. The construction will cost $6.25 million and is expected to be complete by Fall 2019.
In his remarks at the groundbreaking ceremony, Council Member Jimmy Van Bramer, who provided $2.5 million of the funding for the new building, paid tribute to the hard work and dedication of the late Mrs. Elizabeth McQueen, president of the Friends of Queensbridge Park for many years. Mrs. McQueen's love for the park was remembered fondly by other members of the Friends of Queensbridge Park as well as her grandson Desmen Williams. Veronica Franklin, Director of Queensbridge Youth Programs at nearby Riis Settlement and head of the Friends of Queensbridge Park, spoke of what an inspiration Mrs. McQueen was to the community and how pleased she would have been to see the new park house come to life. WBLS radio host Dr. Bob Lee reminisced about musical events and picnics in the park in days gone by.
"Queensbridge is a picturesque park with astounding views of the skyline, and an active community who loves and cares for it," Queens Parks Commissioner Dorothy Lewandowsi said. "The new field house we are building will provide storage and office space for Parks staff, an indoor space for community programming, and – best of all – it will finally bring a bathroom facility to the southern end of the park."
Katie Ellman, President of Green Shores NYC, said: We are thrilled to see that a new multi-use building will replace the long-shuttered field house in Queensbridge Park.  This new addition to the park will be a much needed amenity for the community and also allow the Friends of Queensbridge Park and Green Shores NYC to better serve and engage neighbors and park users."
Photo: Community Board 1 Parks Committee Chair Nancy Silverman, Desmen Williams, Community Board 1 District Manager Florence Koulouris, Veronica Franklin, Council Member Jimmy Van Bramer, Dr. Bob Lee, and the Friends of Queensbridge Park; photo credit, Clare Doyle