Astoria West! New Development across from Hallets Cove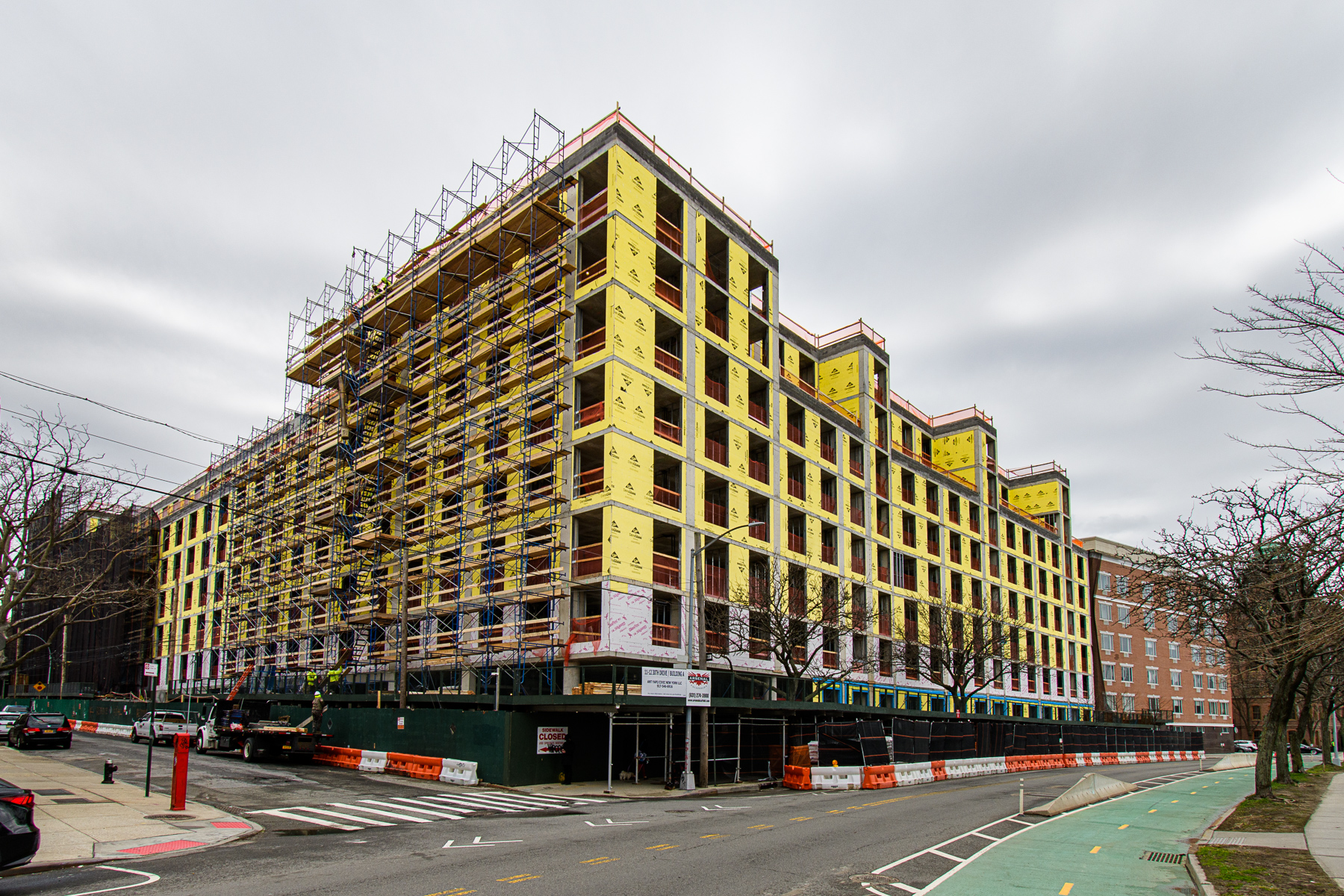 OANA was invited to the topping off of a new "As of Right" development on the Astoria Waterfront! Across from Hallets Cove, these apartments should prove to be an asset to our community.
From the developer: "Astoria West sits on a prime stretch of land along Astoria's burgeoning waterfront, overlooking Manhattan's famed skyline. The development sits at the nexus of the neighborhood's thriving art district which encompasses Socrates Sculpture Park, The Noguchi Museum and the Welling Court Mural Project. Conveniently located just a three-minute walk to the Manhattan ferry, and a short walk to the train, Astoria West's prime location offers both easy access to, and a respite from the hustle and bustle of Manhattan."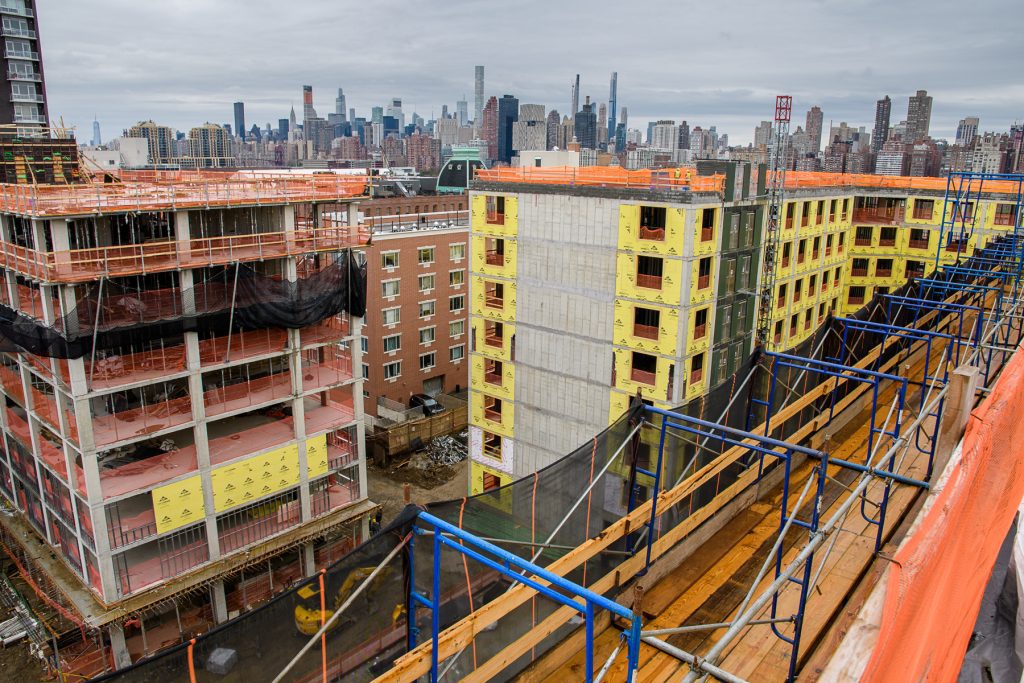 We have worked to establish a good relationship with the developer "Cape Advisors". Over the last few years, they have attended our meetings, and have asked our advice on numerous occasions. We look forward to continuing this relationship, and trust we will be able to solve any problems that affect the neighborhood in general. We strive to help facilitate a mutually beneficial relationship between Cape Advisors and all their neighbors.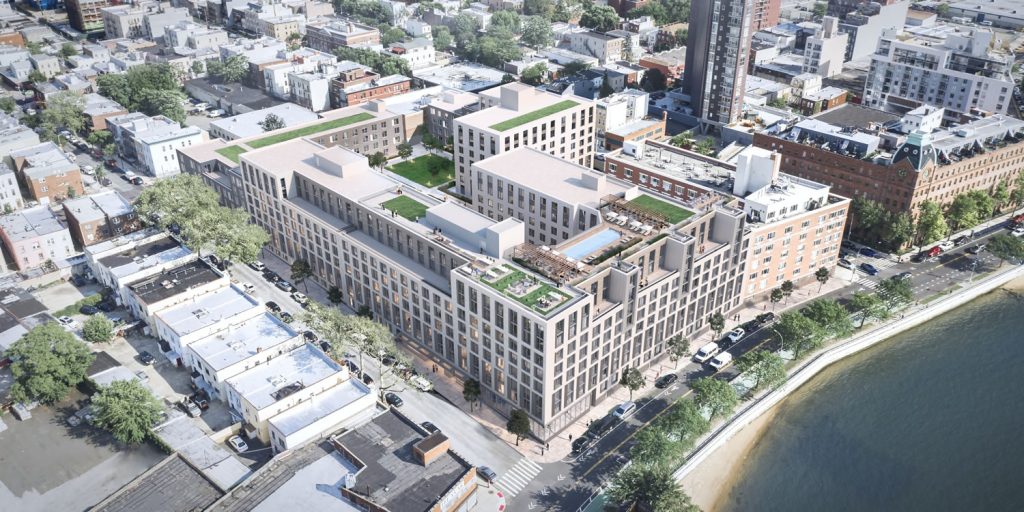 Because they used existing zoning, the building should stay in context with their current and future neighbors, as the neighborhood grows.
For more information, please see their press release below.
Cape Advisors Announces Topping Out of
Astoria West
Prime waterfront location in Astoria will be elevated with brand-new residential offering
QUEENS, New York (April 6, 2021) – Cape Advisors, the New York based real estate development and investment firm, in partnership with the Pioneer Group, today announced that Astoria West, a new rental development, has topped out. Located at 30-77 Vernon Avenue, Astoria West is ideally located along Astoria's burgeoning waterfront and sits adjacent to the neighborhood's thriving arts district. In late July of 2020, Cape Advisors announced they had secured $280 million in financing to facilitate construction for Astoria West.
"Each day we're getting closer to delivering this exciting residential offering" said Craig Wood of Cape Advisors. "We're making excellent progress at the site thanks to our talented development, design and construction team. In spite of the many challenges posed by the pandemic, the entire team has worked exceptionally hard to keep the project on track and we applaud them for their effort and dedication."
"It has been a pleasure working with the Cape Advisors and the entire development team on Astoria West to bring this impressive development to life" said Serhat Sert from Ant Yapi-Civic. "Our construction team in the field has shown incredible creativity, diligence and perseverance in managing and pushing the construction forward so quickly in a year with many challenges. We are thankful for the outstanding effort shown by every team member."
Astoria West will encompass three buildings and 534 residences on a two-and-a-half-acre waterfront site. With architecture and interior design by award-winning firm Fogarty Finger, the development will comprise studio, one and two-bedroom homes, complemented by an extensive amenity package. Outdoor space abounds at Astoria West. The expansive rooftop features a pool and lounge area, set to the backdrop of 360-degree views of Manhattan and beyond, and the landscaped private inner courtyard and gardens give residents a plethora of options for enjoying fresh air and outdoor space. Additional amenities will cater to the growing remote workforce including indoor and outdoor co-working lounges, as well as a fitness center and game room.
"We highly appreciate the effort of all partners and collaborators on this project, and we look forward to completing construction on Astoria West and welcoming residents to their new home. Congratulations to the executive team, and many thanks to Cape Advisors." added George Scharenatz of the Pioneer Group.
Astoria has become an in-demand area for people who like the access to Manhattan with the nearby ferry and appreciate the space and value that comes with being just outside of the city. Astoria West is conveniently located just a three minute walk to the Manhattan ferry, and a short walk to the train. The development sits at the nexus of the neighborhood's thriving art district which encompasses Socrates Sculpture Park, The Noguchi Museum and the Wellingcourt Mural Project.
# # # #
About Cape Advisors
Since 1995, Cape Advisors, a New York City real estate development and investment firm, has brought creativity and expertise to nearly $3 billion in development projects. Cape Advisors is known for assembling and directing talented teams in executing on exceptional projects, including residential, hospitality, retail and commercial projects. From ground up high-rise Manhattan construction to historic preservation and adaptive re-use, each complex collaboration reflects the innovative design and creative transformation of place that makes Cape Advisors unique.
About Ant Yapi-Civic
Ant Yapi and Civic Construction joined forces in 2018 to become one of the major players in the general contracting business in the East Coast region. Ant Yapi's high-rise and high-end, international construction capabilities combined with Civic Construction's years of local experience and network of local business partners have contributed to the recent exponential growth of the partnership. The JV has signed a total of $710 million in contracts on projects in both New York and Miami, with an additional $400 million of projects secured in the pipeline.
About Pioneer Group
Pioneer Group focuses on developing and managing mixed-use properties and residential complexes, including offering a full range of facility services. Over the past 19 years, Pioneer Group has successfully completed 24 projects, including more than 21 million square feet, as an innovative market leader with a reputation for reliability, quality, service and comfort. In developing today and planning for the future, Pioneer fulfills its primary goal – to create a comfortable life for people in modern metropolis through progressive urban solutions. This is Pioneer Group's mission.