Demoliton And Closures On 1st Street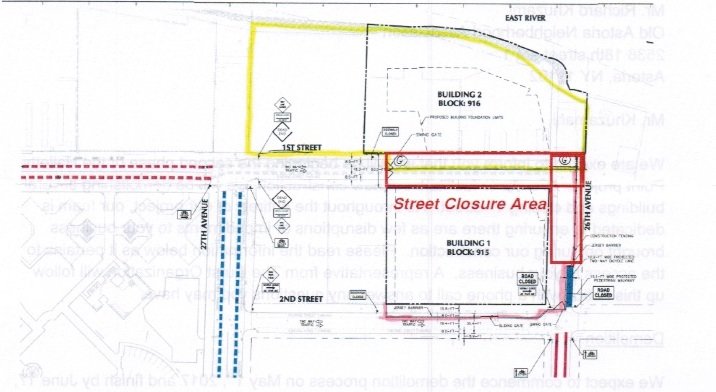 Good news on the Halletts Point development: now that an Affordable Housing plan (replacing the old 421-a program) deal has been reached in Albany, Phase 2 of the building is moving ahead. The Durst Organization has informed OANA that several buildings on 1st Street will be demolished and the time frame is from May 1 to June 21st 2017 with work hours being from 7 am to 5 pm. To reduce noise, the crew will work from the waterfront to the street.
To allow Phase 2 of Halletts Point to move forward, 1st Street will be closed in the location on the map from July 1st 2017 for approximately one year. A traffic safety team provided by the Durst Organization will be on the street during the closure to help local residents and assist vehicles who need access to local businesses to make U-turns as needed. The Durst Organization has told us that they are committed to ensuring that the disruption caused by the demolition and street closure has as minimal an effect as possible throughout the process. If you encounter any issues, feel free to reach out to OANA.
Keith Dumanski from the Durst Organization will be joining us at our next meeting on April 27th and can answer questions on the plans for 1st Street.
Photo: First Street closure – Durst Organization