Hallets Point Project Breaks Ground, But Future Is In Doubt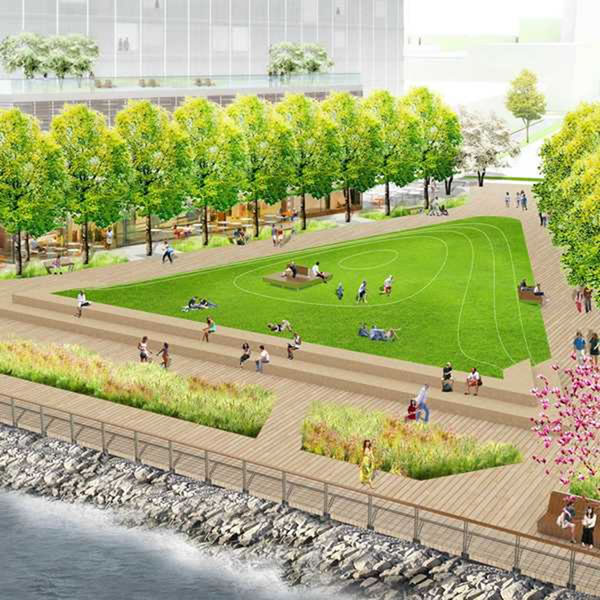 Mayor Bill diBlasio, Congresswoman Carolyn Maloney and other officials were on hand for the groundbreaking of the Halletts Point mega development on the Astoria Peninsula. Plans for Halletts Point call for seven buildings (which will include 483 affordable apartments), a supermarket and other retail, space for a new public school, and a waterfront promenade.  The Durst Organization, which is developing the project is well known for its commitment to sustainability. The eco-friendly development will be completely off of Con Edison's electrical grid.
But just days after breaking ground on the first building, the Durst Organization announced that the rest of Hallets Point might be in jeopardy. The New York State legislature failed to renew the 421-a tax abatement, making it harder for the developer to secure financing for the rest of the buildings. OANA's members had a lot to say about the termination of the 421-a program. Some of them were quoted in several articles.
OANA's Facebook Page published a roundup of its members' diverse views on local development and the 421-a program.
This is a great opportunity for Albany to show it is indeed reformed and can make a decision for the good of the city and state. 421A, or a similar program, needs to be instituted so we can provide for our housing needs.

The city shouldn't have allowed the 421a tax abatement's to expire as it's cost prohibitive to build a rental building without the tax incentives.

By the loss of 421a, the scale of the project as now outlined seems much more "Astoria friendly." It would also be nice if Astoria was left to develop the area as 15-unit buildings, staying consistent with the "townie" character of Old Astoria without devolving into the new city scape rising in LIC.

I feel this pause in development in the area will hurt the neighborhood. Astoria's increase in value has much to do with both its rich cuisine and heritage along with the new boutique buildings that have sprung up over the last few years.