Homeward Bound at Hunting and Gathering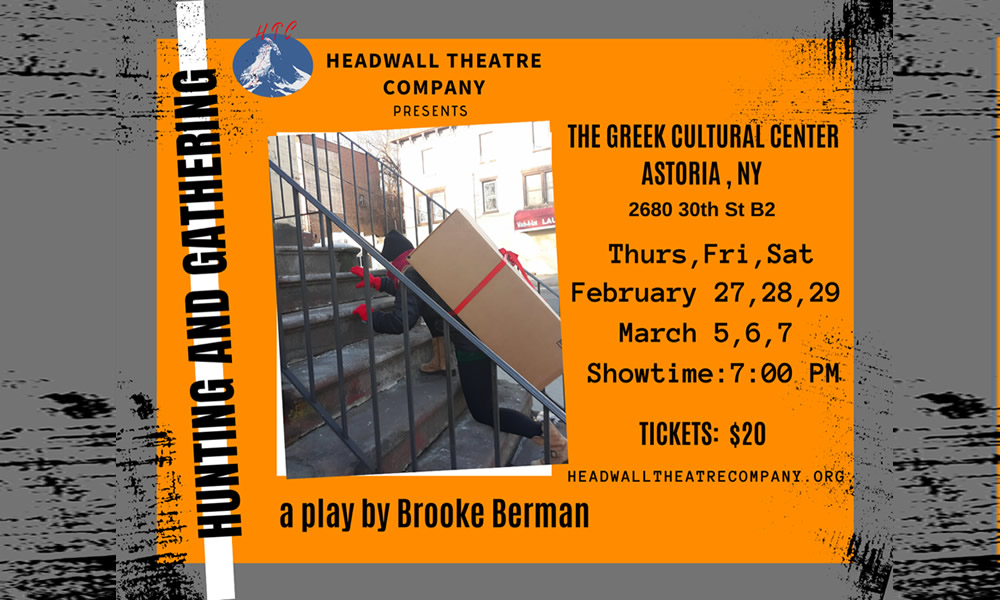 Another stellar production from Headwall Theatre Company, Hunting and Gathering will resonate with anyone who's ever been through the emotional roller-coaster that is apartment-hunting in New York City. A comedy by Brooke Berman, directed by Michelle Pucci Orosz, who also directed Headwall's production of The Other Place,, the characters in the new drama engage in the rituals that will be oh-so-familiar to many of us, from the multiple roommates-with-issues or the dubious ad on Craigslist to the hopeful application at that nice building where your friend's cousin knows the super.
Ashley Ware's plaintive Ruth will capture your heart as she tries to find a New York sub-let that isn't (too) scary and occasionally consoles herself with a visit to her stuff that has to stay in storage for now. Like her best friend and couch-surfer extraordinaire Astor (the delightful Dario Caudana), she's freelancing in the creative world where scraping together two month's rent and a security deposit for a lease seems like an impossible dream. Aston's brother—and Ruth's ex–Jesse, who teaches at Columbia, and needs to find a new apartment after the divorce that followed his affair, may seem at first to be the grown-up on the stage, with his actual job and real estate broker. But Logan Keeler cleverly unpicks the role to show us that Jesse is as far from home as his brother and ex-girlfriend. And just when the characters seem doomed to spin their wheels forever, along comes Jesse's student Bess (a marvelously vivacious performance s Morgan Wardlaw), whose unexpected incursion into their lives may change things forever.
Hunting and Gathering explores the fragile but precious bonds of friendship, family, and human connection as it illuminates the age-old questions of where we call home and how we can get there. And to get to the play, you just have to click here for tickets. Hunting and Gathering runs until March 7 Thursday-Saturday, performances at 7 pm) at the Greek Cultural Center, 26-80 30th St, B2, Astoria, NY 11102. Directions: Take the N / W to 30th Ave Station at 31st St. Walk to 30th Street and Newtown Avenue.  The Center is on the left, just past Koroni Souvlaki & Grill.