Socrates Sculpture Park Plans for the Summer, and the Future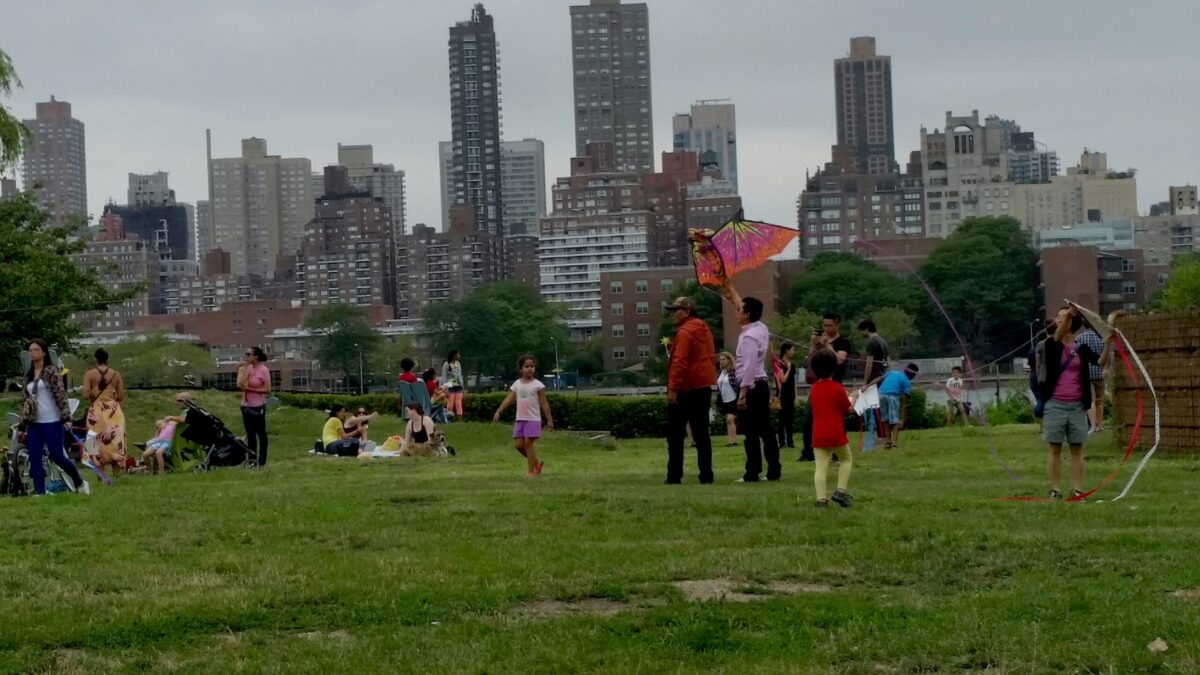 At our March OANA meeting, we had an exciting presentation from John Hatfield, the Executive Director of Socrates Sculpture Park. Open to the public all year around, this Astoria gem that provides the neighborhood with amazing art as well as community events, free cultural programming and children's educational workshops, celebrated its 30th anniversary in 2016.
As John told the meeting, Socrates Sculpture Park is working to ensure its future by building its first permanent home within the park: up to now the staff have been housed in rented space outside the park. Socrates is now raising funds for The Cubes, a two-story structure with a strikingly innovative design that will give the staff a presence in the park and expand opportunities for year-round programming. Although outdoor programming will remain Socrates' main focus, they will now have more options: for instance, school programs that are currently use a heated tent in cold weather will be housed in more comfort in the 960 square feet of flexible multi-purpose indoor space that is part of the plans for the new building that will also include a shaded deck.
John also told the meeting about Socrates' plans for the 2017 season. Currently there is an Open Call for submissions for the park's iconic Broadway Billboard at its main entrance at Vernon Boulevard and Broadway. Submissions should incorporate the themes of democracy, citizenship, collectivism, and American identity and are due by midnight on April 15. Two winners will be selected; the first will debut on July 4 and the second in the Fall.
In 2017, the entire park will be devoted to the work of a single artist for the first time. Nari Ward: G.O.A.T., again, is a series of six specially commissioned works of art by the Jamaican-born New York artist that will be on view from April 29 to September 4. As John mentioned, a unique feature of Socrates is that the art is created on site where the community can watch—something that sets it apart from other sculpture parks—and he gave a preview of the works that are being currently created at Socrates. Spoiler alert: the eponymous goats of the title will be heavily featured throughout the park. Don't miss the chance to view Nari Ward's first institutional solo exhibition.
Last year's community events at the Sculpture Park were extremely well attended, and Socrates is planning on how to accommodate the large crowds that can be anticipated for this season's events, including fund-raising to hire additional staff. The popular outdoor cinema series will return, and for those who enjoyed the jazz concerts and visit of the Metropolitan Opera last summer, they will be back in 2017. And as John stressed, all the programming and events offered by Socrates Sculpture Park will continue to be free of charge—if Socrates can't do a program for free, they won't do it. Thanks to John Hatfield for a most interesting presentation, and we look forward to many fun days at Socrates this year!
Festival of Kites & Kayaks at Socrates Sculpture Park, Summer 2016 – Photo credit Clare Doyle